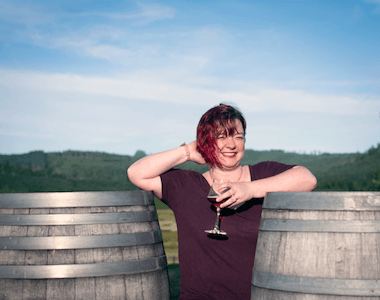 Brew Files - Episode 92 - Kiley's "Grewit" Gruit
The Brew is Out There!  
Kiley's back and talking about using herbs and spices in her beers! We're specifically focusing on her Mecca Grade "Brewing Man" Best of Show Winning "Grewit" Gruit her "Deep Roots" Porter. Want to make a beer with eomse other flavors - look no further!
Links:
Grew-it Gruit - https://www.experimentalbrew.com/recipes/oregon-brewing-woman-grew-it
Deep Roots Recipe - https://blog.mountainroseherbs.com/adventures-home-brewing
Mountain Rose Herbs - https://mountainroseherbs.com/
Kiley's Book Reccomendations
Practical for beginners
• Homebrewers Almanac – Scratch Brewing - great for getting to know the botanicals in their book
• Brewing Local – Stan Hieronymus
• Against All Hops – Butch Heilshorn
More advanced brewers
• Ancient Brews & Uncorking the Past – Patrick McGovern
• The Wildcrafting Brewer – Pascal Baudar
• Sacred and Herbal Healing Beers – Stephen Harrod Buhner
Herbal and Bitters books  
• Wild Drinks and Cocktails – Emily Han
• The Drunken Botanist – Amy Stewart
• Bitters – Brad Thomas Parsons
• Hand Crafted Bitters – Will Budiaman
• DIY Bitters – Guido Mase & Jovial King
Books I've heard great things about
• Artisanal Small-Batch Brewing – Amber Shehan (Pixie's Pocket blog)
• Sweet Remedies – Dawn Combs 
This episode is brought to you by: 
American Homebrewers Association
Brewers Publications
Atlantic Brew Supply (Discount Code: BrewFiles)
Don't forget to subscribe via your favorite podcasting service (iTunes, etc). Like our podcast, review it - talk it up! If you have comments, feedbacks, harassments, etc, feel free to drop us a line at podcast@experimentalbrew.com. Follow us on Facebook (ExperimentalBrew), Twitter (@ExpBrewing) or Instagram (ExperimentalBrewing).
Don't forget you can support the podcast on Patreon by going to http://patreon.com/experimentalbrewing
This episode can be downloaded directly at http://www.podtrac.com/pts/redirect.mp3/www.experimentalbrew.com/sites/d...
Podcast RSS Url: http://www.experimentalbrew.com/podcast.rs