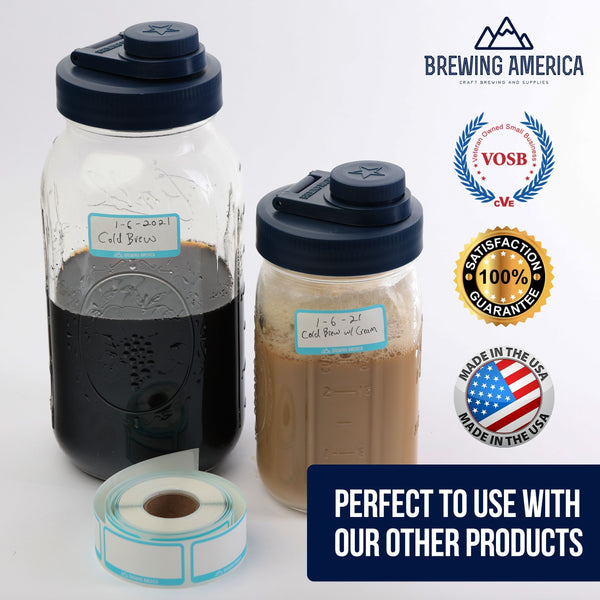 Mason Jars: A Brief History, Eco-Friendly Uses And Why They're So Popular
Stores across the United States are reporting canning supply backorders that won't be filled for months.
This current resurgence of popularity for canning has a lot to do with the current global pandemic turning many Americans to home gardening. "Pandemic hobbies" have become highly sought-after, as life with the coronavirus has stretched from the spring, through the summer and fall, and now, winter.
Unfortunately, many people are facing unemployment or underemployment. As a result, growing food seems like a logical hobby. Since cities have started issuing lockdown orders, Google searches for "growing vegetables from scraps" were up 4,650 percent from the previous year.
As new gardeners came into fall with a surplus of crops of fruits and vegetables that couldn't all be eaten, another time-tested hobby, canning, has come in to play. Because food starts to degrade the moment it is harvested, preservation must happen to maintain food against the natural process of decay. Canning has always been one of the most popular choices for storing food.  
Cue the mason jar. One of the most useful containers on the planet, the mason jar has skyrocketed in popularity in recent years for its huge range of uses, and it all started with canning.
Mason Jar History
Mason jars are the tried-and-true ideal container for canning. So, who can we thank for its invention?
John Landis Mason is the man we should thank. In the 1850s he was searching for a way to improve the process of home canning. Up until then, home canning involved using wax to create an airtight seal. Jars were stoppered with corks, sealed with wax, and then boiled. The process was difficult and messy. It was also not reliable, as home canning was still a relatively new concept and not all the kinks in its process had been worked out yet.
In 1858, John invented and patented a screw threaded glass jar that became known as the mason jar. Since then, Mason jars have had hundreds of variations in shape and cap design.  Mason's patent expired just a few short years later in 1879. After that, many other manufacturers produced glass jars for home canning using the Mason-style jar. Between 1860 and 1900, many other patents were issued for Mason jar improvements and variations.
The Original Mason Jar Lid
The initial form of closure for the glass canning jar was a zinc screw-on cap, the precursor to today's screw-on lids. The cap screwed down onto a rubber ring on the shoulder of the jar. In 1903, Alexander Kerr introduced lids with a permanent rubber seal. Now, jars are closed with two-piece metal lids that seal on the rim. The jar lid has a rubber or rubber-like sealing surface and is held in place by a separate metal band. 
(Shameless plug: Brewing America has just recently launched a patent pending, unique mason jar lid that solves the problem of liquids leaking and spilling from mason jars. Not only do these lids turn a regular mason jar into a spill proof container, they also increase the portability and durability of mason jars. See below for more information on our latest exciting addition!).
Eco-friendly Uses for Mason Jars 
Now that you know where mason jars come from, let's talk about the convenient ways you can use them. One of the most popular uses for mason jars, other than canning, is as a drinking glass. Jars have become a handy, eco-friendly and trendy way to serve drinks both at private homes and in restaurants.
Mason jars are deep rooted in history and nostalgia. Families all over America have been using them in their homes as cups since the early 70s. Drinking glass jars have also become popular in the food service industry. Firstly, mason jars have a good durability factor. Restaurants can keep costs low on having to replace cheaper glassware that break more easily than glass jars. 
Secondly, they are more environmentally friendly than using a throwaway plastic cup. Many restaurants are wishing to reduce their carbon footprint and reduce the amount of plastic products they use in their business. Not only cost-effective, but businesses are beginning to understand that consumers have become much more conscious about the impact our behaviours have on the environment.
A bonus about using jars for drinks – you can premix drinks! Pour the drink into the jar, screw on the lid, and toss the jar into a cooler full of ice. This cuts down on the work you need to do later and lets you have more free time.
Game-Changing New Mason Jar Lids
While standard mason lids have worked well in the past, our patent pending Brewing America mason jar lids give the classic glass jar a new purpose, and bring them into the 21st century.
These spill proof mason jars lids are reusable screw-on plastic lids that feature a flip cap you can easily pour from or drink with a straw. They are designed with a ribbed texture for an easy grip, which makes them ideal for homebrewers, chefs, or for drinks on the go.
Made from BPA free plastic with a removable FDA food-grade silicone seal to eliminate mold, they are durable and easy to clean. We guarantee these lids will never leak due to our superior, Made in the USA design.
Shop our store to see all of THE best wide mouth plastic mason jar lids for wet and dry foods, and all liquids, including alcohol, today.