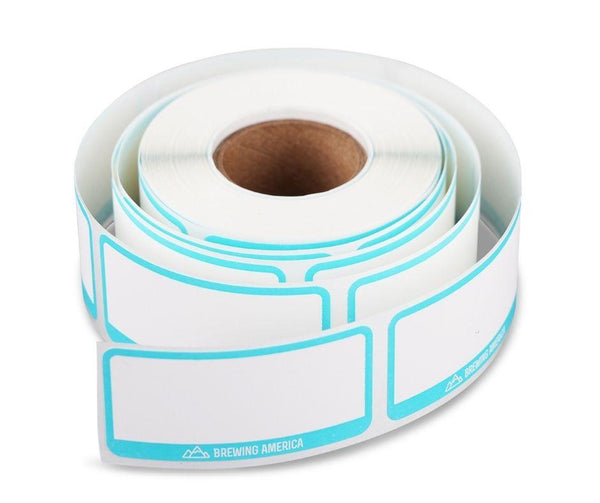 How You Can Use Dissolvable Labels to Make Your Life Easier
Abracadabra, label dissolve! 
Although not quite, and joking aside, dissolvable labels are the perfect solution for temporary label application. This is, no doubt, the item you NEED to finally get organized in your kitchen, craft room, the kids' bedrooms, your overcrowded storage room, and even the workshop. Dissolvable labels are the answers to your storage prayers– and in this article we are going to show you how you can use them to make your life a lot easier.
What Is A Dissolvable Label?
High quality dissolvable labels adhere securely to any container during both storage and use and then, after everything is said and done, dissolve easily in water for super quick clean up. 
While dissolvable labels have been around for a long time, advances in material technology have really helped turn them into a household must-have. In fact, Brewing America specially engineered these convenient and practical labels to dissolve in 30 seconds under running water – no soaking required and, most importantly, no sticky residue! Our labels require no special equipment for clean up; when the paper label vanishes in water, so does anything printed or written on it. Gone are the days of trying to pick off that annoying residue left behind by regular labels.
Water soluble labels are a cost-effective and versatile solution for every room in your house, at work, or even in your restaurant kitchen. Effective dissolvable labels should stick to any container surface and should quickly remove when needed. They should also not fade or fall off – perfect for potluck dishes, frozen foods, leftover containers, mason jars, plastic totes, and more.
Eco-friendly Dissolvable Labels
There are many current studies showing that eco-friendly products are becoming more important to consumers. Recycling packaging options, reusable products, and non chemical ingredients are all becoming priorities for a large majority of shoppers and businesses aiming to reduce their carbon footprints.
More and more brands are moving towards sustainability to meet customer demand, improve the environment, and stay ahead of regulations. Brewing America prides itself on being an earth friendly company, offering products like dissolvable labels. This unique product makes it easy to be eco-friendly without sacrificing performance.
Dissolvable labels allow you to reuse food containers for other storage when the original product is gone. For those who value waste reduction, dissolvable labels are an item you need to buy now!
Not Just For The Kitchen 
The most common use for this type of label is in the kitchen…. but they are so versatile, they can absolutely be used in other rooms in the house and for a range of other purposes. Some of the most common uses for dissolvable labels include:
Craft supplies organization

School supplies 

Drawers and drawer dividers

Laundry hampers

Shelves

Storage room

Sewing room storage

Workshop organization
Water dissolvable labels are an ideal solution for temporary applications on numerous different types of material. Once you realize how much time and energy labeling can save, you will be eager to put a label on everything (trust us, we know).
Industrial Use
If you are in an industry setting where you need to change labels frequently, you will want to use dissolvable labels for not only the convenience, but also for a cost-effective product. Brewing America's labels are designed to provide top quality performance for all your label application needs. Dissolvable labels are an economical solution for temporary labeling situations, and features include:
Durability for freezers and microwaves

Stick to glass, wood, metal, plastic, and more

Large writing space 

Great for food, pricing, seasonal (Christmas, Halloween, Easter, etc.), soap labels, and much more.
When products need to be washed and reused, water soluble labels can meet the demand of your business. Brewing America's earth friendly, non toxic label material has a paper-like consistency, making them easy to write on with critical information to ensure proper food safety and other business tasks.
Dissolvable Labels Are The Way Forward
Did we mention NO scrubbing and NO residue? Removing old, stubborn labels and the sticky adhesive film is a messy task no one likes to do. If you don't believe us, watch this video of our labels magically disappearing so you can reuse your containers again and again!
These days, cleanliness, hygiene, and order are of utmost importance. Having your home, workplace, and business organized is a necessity, and Brewing American understands this. We guarantee our dissolvable labels are effective, affordable, and are of the best quality on the market today.
Learn more about us and the products we offer. Check out our full store here!